.com | .us | .ml | .mobi | .net | .org


The Definitive Source for Everything CAC
CAC (Common Access Card) help for your P

ersonal

M

ac

C

omputer

Also available at:

Please website with your friends and colleagues
Mac VIDEOS PAGE
Visit Windows video page

Setting up Firefox using CACKey
Items discussed in video:
https://software.forge.mil/sf/go/projects.community_cac/frs.cackey.0_7_6/

NOTE: You need to access above link via Safari or Chrome and login using your CAC
- or -
0.7.6 CACKey packages download links
NOTE: You do not have to install Firefox to use CACkey, the video shows people who want to use Firefox and the additional step needed to make it work. CACkey works with Safari and Google Chrome with no additional configuring.
Sierra (10.12),
El Capitan (10.11.x),
Yosemite (10.10.x),
Mavericks (10.9.x), &
Mountain Lion (10.8.x)
NOTE: You may receive
the following error message. "Can't be opened because it is from an unidentified developer."
.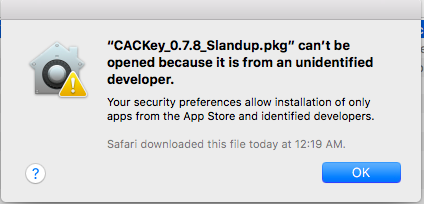 NOTE continued: Hold the control key [on your keyboard] when clicking the .pkg file [with your mouse], select [the word] Open
When you click the text link (or the Mac picture), you are downloading CACkey from MilitaryCAC, if you click the link below the image, you are downloading from the programmer's website
.
.
.
.
If you want to setup Firefox, here is the specific location mentioned in the video above.
(If you only use Safari or Chrome, you can skip this step).
Navigate to your hard drive / Library / CACKey / libcackey_g.dylib
.
Updating the firmware on an SCR-331 CAC reader using TENS / LPS on your Mac
How do I create the bootable CD from the .iso file?
Video from DBSign on how to set up DTS on Mavericks 10.9, it is similar enough that'll it work on OS X El Capitan 10.11 & Yosemite 10.10
Videos created by the ITRC of the US Air Force Judge Advocate General:
Avoid locking your CAC on your Mac
Setting up Firefox using Coolkey (older version)